I think one of the hardest realities of divorce is not having the ability to totally screen your children from negative influences or bad things that might occur at the other parent's house.   My ex husband has different standards and roommates that model poor behavior. I want to protect my children from any potential harm but divorce has left me in hard situations where I am literally not allowed to accompany my child even when I question the quality of their other home. This chronic concern has weighed on my mind for years which has forced me focus on the things I CAN do instead of the things I cannot. Therefore, regardless of the other environments that are out of my control, the most important thing I can do is create a home that is a refuge for my children. If I can create a refuge within my four walls, our home can ultimately empower and consistently direct them as they encounter opposing influences anywhere they find themselves. But how do parents create such a refuge? you might ask. I suggest starting at the foundation.
In The Family: A Proclamation to the World it gives us our roots in the following statement:"Successful families are established and maintained on principles of faith, prayer, repentance, forgiveness, respect, love, compassion, work and wholesome recreational activities." (See lds.org for more on The Family: A Proclamation to the World.) With these principles as our foundation, here are a few "refuge rituals " that we can implement to create the refuge our children need.
Refuge Ritual #1: Highs & Lows
Every night over dinner every person shares their high for the day and their low for the day. No matter the age, everyone can participate and formulate their responses on their own. This is extremely valuable in our fast-paced world to stop for a moment and point out the day's blessings and acknowledge the day's challenges. This ritual builds respect and compassion among family members because sometimes we struggle to see beyond our own struggles and sometimes we relish in our blessings and forget there are others still waiting for blessings to come. This practice is simple and requires no preparation, and most importantly it will keep the family members aware and updated on the feelings of those they love most.
Refuge Ritual #2: State What you Stand For
When my daughter was old enough to sing a song, I made up new lyrics for the tune "We are a Happy Family" but it went like this, "Family scripture, family prayer, family temple, family fun. And don't forget F.H.E………these are the happy family five! " Each value had a matching action we did as we sang and we would end it with a mother-daughter high-five. Although my daughter didn't realize it at the time, I was teaching her our family values. Many years later I still sing this song when I am evaluating our family progress and priorities. Determine what your family stands for. Put it to music or make it rhyme. Whatever medium works for your family be sure to get it on paper and repeat it often. This will unite your family members and will provide clarity as they create their own priorities when they are older.
Refuge Ritual #3: Don't forget the Fun
In the midst of teaching and disciplining our children don't forget to balance it with equal amounts of laughter and fun. Your children won't care about what you say until they see you play. If children only hear you talking about love and service yet there is little laughter and recreational activity together, your statements won't be believable because they are so one-sided. Schedule in time for game nights, hide and go seek, jumping on the trampoline, dancing in the rain, a trip to the dollar store, or a trip to the local ice cream shop. It doesn't really matter as long as you are trying to enjoy each others' company simply because you love them and love being with them. As your children see you smile and hear your laughter as you play, they will be more likely to listen to your words when you talk with them. Therefore, don't forget to have fun with the ones you love.   A family that plays together stays together.
As you strive to fortify your home and your children, remember that your home is the best refuge, and sometimes the only refuge you can provide them. The children who are built upon the principles in the Proclamation will enjoy greater peace and guidance as they venture into other environments without you. Just remember to make your home a refuge by implementing refuge rituals like Highs and Lows, State what you Stand For, and Don't Forget the Fun. It'll be worth your effort and your children will be blessed.
–Elizabeth
Angels round about you to bear you up. D&C 84:88
This post is part of a blogger round-up! Read the tips and experiences these bloggers share in making their homes a sacred space.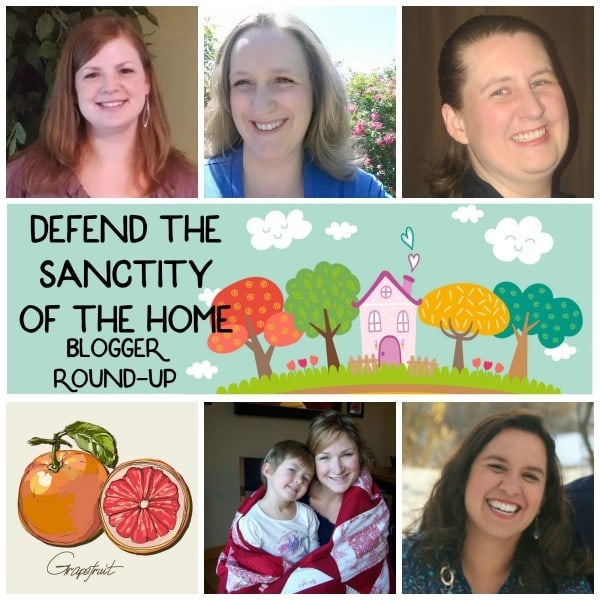 Mandy @ A Bliss Complete | Camille @ Chicken Scratch 'n' Sniff | Jen @ Lexical Creations
Grace Lane @ Upheld | Jocelyn @ We Talk of Christ | Montserrat @ Cranial Hiccups